Bio
SoundCake is Southern California's quintessential club, wedding, special event, and party band, entertaining audiences by playing a wide variety of hits from all eras, including dance & groove favorites, modern party rock, and classic rockers... The one Southern California band proven to make your event a success... GUARANTEED! 
What can you expect at a SoundCake show? High-energy, PROFESSIONAL entertainment - sonically and visually captivating, guaranteed to make your event memorable and/or electrify your club!
Band Members-
Hef - Vocals, Guitar, bass sometimes 
Mikk L. Slikk - Bass, Vocals, sometimes guitar, naps and crackers
Acey The Rocker - Lead Guitar, Vocals, Management 
Perry "Sancho" Sanchez - Drums, Vocals, cake and milk 
Wyld Byll Halligan- Lead Guitar, Vocals
Comments-
"This band rocks,great vocals,great guitars,great everything - DonTrotta"
"Soundcake ROCKS!!! - Brenda Schmidt-Lessi "
"My entire reception was a blast... there was a great music selection and everyone at the wedding really enjoyed the songs. I liked how they took song requests and were able to interact with the crowd. Friendly! I would definitely recommend them for any event.  - Kathy K"
"Sound Cake rocks!!They played my parents 30th Wedding Anniversary& rocked out!!In the first 10 minutes of their performance,I had 3 people ask me where I found the "rockin band". A-MAZE-ing!!  I interviewed alot of bands- none compared to their look, songs, and SOUND!!I PROMISE you won't be disappointed!!Thank you Sound Cake...your new found groupie(s)! - Marissa J"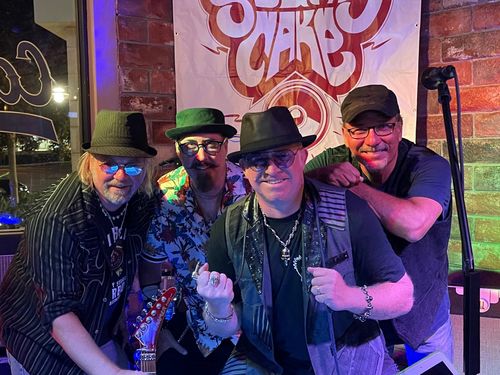 Song List
SAMPLE SONG LIST: 
1985 - Bowling for Soup  
1999 - Prince  
A Hard Days Night - Beatles  
Ain't Too Proud to Beg - The Temptations  
All The Small Things - Blink 182  
American Girl - Tom Petty  
Any Way You Want It - Journey  
Anything Anything - Dramarama  
Bad Case of Lovin' You - Robert Palmer  
Bad Moon Risin' - CCR  
Badfish - Sublime  
Beast of Burden - Rolling Stones  
Billie Jean - Michael Jackson  
Boys Are Back in Town - Thin Lizzy  
Boys Don't Cry - The Cure  
Brick House - Commodores  
Brown Eyed Girl - Van Morrison  
Burnin' Love - Elvis Presley  
Bust A Move - Young MC  
Can't Get Enough of Your Love - Bad Company  
Dirty Deads Done Dirt Cheap - AC/DC  
Don't Stop Believin' - Journey  
Everybody Talks - Neon Trees  
Fast As You - Dwight Yaokam  
Fight For Your Right - Beastie Boys  
Folsom Prison Blues - Johnny Cash  
Get Down Tonight - KC & The Sunshine Band  
Gimme Three Steps - Lynyrd Skynyrd  
Girls & Boys - Good Charlotte  
Heart & Soul - Huey Lewis & The News  
Hey Jealousy - Gin Blossoms  
Hey Ya - Outkast  
Highway to Hell - AC/DC  
Hit Me With Your Best Shot - Pat Benetar  
Hold on Loosely - .38 Special  
Hound Dog - Elvis Presley  
Hurts So Good - John Cougar  
I Believe In A Thing Called Love - The Darkness  
I Like It I Love It - Tim McGraw  
I Saw Her Standing There - Beatles  
I Want You to Want Me - Cheap Trick  
Jailhouse Rock - Elvis Presley 
Jenny (867-5309) - Tommy Tutone  
Jessie's Girl - Rick Springfield  
Johnny B Goode - Chuck Berry  
Just Like Heaven - The Cure  
Keep Your Hands to Yourself - Georgia Satellites  
Kryptonite - 3 Doors Down  
Learn To Fly - Foo Fighters  
Let's Get It On - Marvin Gaye  
Let's Go - Cars  
Little Sister - Elvis Presley  
Livin' On A Prayer - Bon Jovi  
Locked Out of Heaven - Bruno Mars  
Long Cool Woman - The Hollies  
Love Shack - B-52's  
Lovin' Touchin' Squeezin' - Journey  
Margaritaville - Jimmy Buffett  
Melt with You - Modern English  
Million Miles Away - Plimsouls  
Miss You - Rolling Stones  
Mustang Sally - Wilson Pickett  
My Own Worst Enemy - Lit  
No Matter What - Badfinger  
Old Time Rock 'n Roll - Bob Seger  
Play That Funky Music - Wild Cherry  
Pour Some Sugar On Me - Def Leppard  
Purple Rain - Prince  
Rock and Roll All Night - KISS  
Rock This Town - Stray Cats  
Rapper's Delight - Sugar Hill Gang  
Rebel Yell - Billy Idol  
Santeria - Sublime  
Save Tonight - Eagle-Eye Cherry  
Sex On Fire - Kings of Leon  
Smells Like Teen Spirit - Nirvana  
Some Kind of Wonderful - Grand Funk Railroad  
Stacy's Mom - Fountains of Wayne  
Stir It Up - Bob Marley  
Sugar - Maroon 5  
Summer of '69 - Bryan Adams  
Sweet Child o' Mine - Guns 'n Roses  
Sweet Caroline - Neil Diamond  
Sweet Home Alabama - Lynyrd Skynyrd  
The Joker - Steve Miller  
This is How We Do It - Montell Jordan 
Tush - ZZ Top  
Twist & Shout - Beatles  
Uptown Funk - Bruno Mars & Mick Ronson  
Walk This Way - Aerosmith  
What I Got - Sublime  
What I Like About You - Romantics  
What's Your Name - Lynyrd Skynyrd  
White Wedding - Billy Idol  
Wicked Game - Chris Isaak  
Wonderful Tonight - Eric Clapton  
Wonderwall - Oasis  
You Shook Me All Night Long - AC/DC  
Your Love (Josie) - The Outfield  

Plus many more from lots of artists from all eras! - contact us for more details.